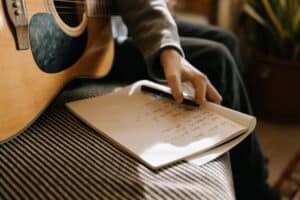 Some people just seem to have a natural talent for certain things. We tend to say this when we see people making incredible pieces of art or music. The skill that an artist or musician has can seem almost supernatural, which begs the question: is this skill a gift from God or can you develop this skill through practice?
As someone whose life is centered around his faith, Brian Overton is a Co-Worship Leader and Christian Contemporary Musician who expresses his faith through music. He is a founding member of the worship music project, His Word, and releases music independently from his in-house studio, Green Room Studio. Today he shares his thoughts about whether songwriting is a natural talent or a skill you can learn.
When it comes to gifts from God, there are five Ministry Gifts, Motivation Gifts, and Manifestation Gifts listen in the Bible. These gifts include:
Apostle
Prophet
Evangelist
Pastor-Shepherd
Teacher
Prophecy
Serving and helping
Exhortation or encouragement
Giving
Leading
Mercy
Word of Wisdom
Word of Knowledge
Healing
Miracles
Discernment
Faith
Tongues and interpretation of tongues
So, we can see that songwriting isn't specifically listed as a gift given by God. However, music is an important part of expressing one's faith and giving praise to God.
When it comes to whether or not songwriting is a natural talent, we should keep in mind the 10,000-hour rule. This rule states that it takes about 10,000 hours of practicing a particular skill to go from beginner to master. If there is something you want to be really good at, such as songwriting you don't need to have natural talent, you just need to have a dedication to practicing. Some people are just naturally more inclined to pursue certain hobbies than others.