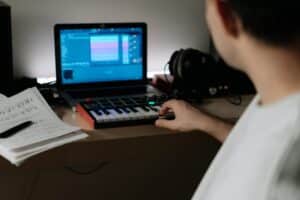 No matter what type of music you write, it can be hard to get noticed when you are early on in your career. There is so much competition out there for songwriters, but knowing how to get attention on your music from the right people is the only real way to make it in the industry.
As a singer and songwriter, Brian Overton is one of the founding members of the worship music project, His Word. The band's primary goal is to bring believers closer to Christ through their original music, which is released independently through Brian's in-house studio. Today he shares his tips for getting your music noticed.
Don't stop honing your craft. The more you practice, the better you will get, and the more likely someone will be drawn to it.
Utilize social media. Social networks are a great tool to get your music heard by people all around the world. So many musicians and songwriters these days are found online.
Put your music on streaming platforms such as Spotify, Soundcloud, and Bandcamp. The popularity of streaming platforms is only growing, and it's how most people these days listen to music.
Set up a website for your music and put together an electronic press kit. This is a page on your website that has all of the information someone would need to promote your work.
Read out to various music blogs and ask if they will feature your music (and you can point them to your electronic press kit).
Play any gigs that you can. Every show you can play, no matter how small, is worth your while and provides you with valuable experience.
Don't forget the importance of networking and promoting yourself within your local area. Get to know other musicians around town. If you are a Christian artist, let other people in the church know that you make and write music!